Own goal results in loss
FK Mladá Boleslav - FK Baumit Jablonec 1:2 (1:2)
02. 06. 2011 |
Boleslav was quickly behind in this otherwise equal match, and failed to catch up. This was the fifth league match lost in a row, and the third on home turf. Jablonec had been beaten eight times since 2007.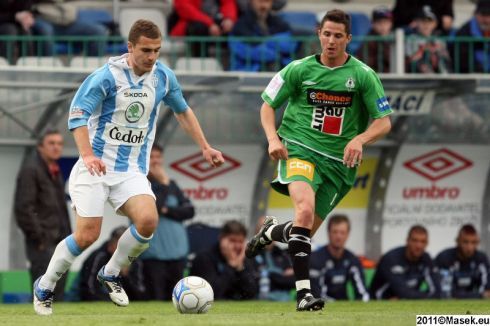 Boleslav may have been the more active team, but Jablonec were the first to shoot at goal. The first warning came in the 6th minute when Vošahlík centered the ball into the vicinity of Lafata in the goal area, who tried but failed to scissor-kick the ball. Two minutes later Miller's net was waving. The Boleslav goalie made a fantastic save from an Eliáš cannonball into the upper right corner, but Piták from Jablonec was the first to react and scored easily form a few meters out in front of the hapless defenders - 0:1.
Of the Boleslav attempts to even the score only Řezníček's shot in the 16th minute is worth mentioning as it was too hot for Valeš to handle, but it only resulted in a corner kick. Piták's centered pass into the box in the 24th minute was headed clumsily by the Boleslav defender Mach and the ball bounced off the right goal post behind an unhappy Miller - 0:2.
At that moment the situation of Boleslav was more than serious, and Mach's unlucky header finally proved to be the winning goal for Jablonec.
A quick throw-in by Kysela in the 32nd minute sent Kulič through behind the defense, and he ran into the Jablonec penalty box, before weighting a perfect pass into the path of Řezníček. He calmly took a touch before precisely aiming his shot inside the right upright - 1:2. This goal woke the Boleslav players up. Immediately afterwards Mendy and Kulič both fired hard efforts goalward on separate occasions. But neither managed to surprise the Jablonec goalkeeper. He also managed to deal with Kúdela's treacherous shot seven minutes before the break.
The Boleslav players began the second half enthusiastically, and for the majority of the half the spectators saw some nice soccer with offensive actions at both ends, unfortunately it was without the added spice of a goal. In the first minute of the second half Kulič confused the Jablonec defence, but instead of shooting he chose to pass to Řezníček, but the ball was diverted out for a corner by an alert defender. In another attack Mendy tricked his way past two opponents before crossing in front of the goal to a waiting Řezníček, but his header narrowly flashed past the right corner of Valeš's goal by inches.
Lineup of FK Mladá Boleslav: Miller - Kysela, Rolko, Janíček (53. Johana), Mach - Mendy, Ščuk, Kúdela (69.Krasniqi), Dimoutsos (46. Dudek) - Kulič, Řezníček.
Lineup of FK Baumit Jablonec: Valeš - Eliáš, Pavlík, Beneš, Jablonský - Vošahlík (80. Třešňák), Loučka, Piták (70. Vaněk), Jarolím (88. Drsek), Kovařík - Lafata.
Goals: 32. Řezníček - 8. Piták, 24. Mach (own)