A loss to Pilsen after four victories
FC Viktoria Plzeň - FK Mladá Boleslav 3:1 (2:0)
02. 06. 2011 |
Mladá Boleslav has beaten Viktoria Plzeň in their last four matches. It happened twice in league games (4:0 in the spring and 4:3 in the autumn), and also in this year's cup matches (home 2:1 and away 2:1). But this time they were just not up to it.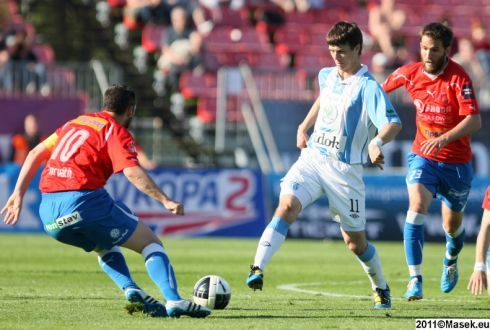 The first half was definitely dominated by the Pilsen players who created more goal chances, and succeeded in scoring from two of them. Bakoš missed the first chance in the 7th minute, when he found himself alone against Miller in the penalty box - his shot was blocked.
Boleslav had the advantage of the first corner kick in the 16th minute, but did not effectively use it. Pilsen responded with carefully developed offensive move. A free kick from the right wing found an unmarked Jiráček, and his low centered pass across the penalty box was easily turned home by Kolář behind Miller's back - 1:0. Trapp then shot high over the Boleslav goal in the 29th minute from a distance of ten meters. However, two minutes later Miller's net was waving again. Dimitrovski made a schoolboy error when he missed a deep pass near the penalty box, and Bakoš did not hesitate and punished the mistake firing a shot past the Boleslav goalkeeper without raising a sweat - 2:0.
The activity of Boleslav in the first half was not vigorous at all. Efforts by Mendy and Dimoutsos to dribble themselves into a shooting position, or attempts at goal by Kúdela and Táborsky - everything was in vain.
The second half began with more active play by Boleslav. Yet they tryied to conquer the goal of Pilsen for a long time to no avail. First they were lucky enough to survive a free kick from Horváth and two Pilsner corner kicks, but they were left to regret their missed chances.
. Bakoš cut straight through the Boleslav defence in the 63rd minute, and alone in front of Miller he squared the ball to Rajtoral, who tapped home from close range into an empty goal - 3:0.
Dimitrovski was too short to reach Fabián's free kick from the left in the 69th minute.
Řezníček then gave an amazing show in the 74th minute. He faked two shots at goal, preparing the ball nicely, and then finally released a lifting drive from the penalty box line which swept the cobwebs in the upper left corner of Pilsner goal away - 3:1.
Řezníček came across the goal square in the 75th minute, passed to Mendy, but his shot missed the Pilsner goal next to the left post. Three minutes later Fabián switched the play from the left to the right, and after Kysela's pass, Řezníček reached out for the ball in the penalty box, but he could not overcome Pavlík in a clear goal scoring position.

Lineup of FK Mladá Boleslav: Miller - Kysela, Rolko, Dimitrovski, Fabián - Mendy (83. Dudka), Kúdela, Dimoutsos, Táborský (46. Ščuk) - Chramosta (72.Bulut), Řezníček.
Lineup of FC Viktoria Plzeň: Pavlík - Rajtoral, Ševinský, Bystroň, Limberský - Petržela (77.Ďuriš), Kolář, Horváth, Trapp, Jiráček (90.Brezinský)  - Bakoš (82 Rezek).
Goals: 16. Kolář, 31. Bakoš, 63. Rajtoral - 73. Řezníček