Good performance brings them back to the European game
FK Mladá Boleslav – SK Sigma Olomouc 2:0 (1:0)
02. 06. 2011 |
Boleslav played some very good soccer on home turf, and beat their formidable opponent from Olomouc by two goals. The attractive match was played at a fast pace and the home team deservedly took the resulting three points.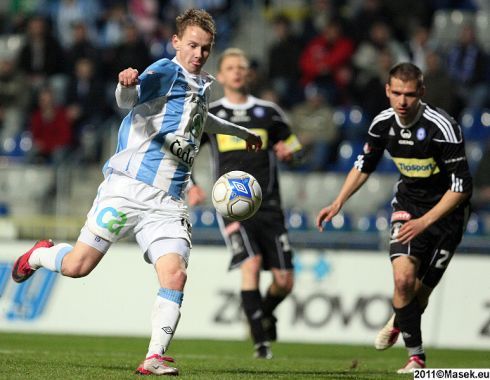 The first dangerous action was an Olomouc attack led by Doležal who was pursued by Šírl, but it was the goalie Miller who took a risk and ran out to meet and intercept the enemy on the edge of the penalty box. Two forward drives by Boleslav ended in offside, and a shot by Kulič missed the target in the 17th minute. Three minutes had passed after Kulič's attempt before Mendy was knocked off the ball inside the Olomouc penalty box, but the ball was not cleared and Chramosta's fired an unsuccessful shot towards the right goal post.
Fabián fought hard to win a corner kick in the 42nd minute, which was the third for Boleslav. Kulič placed his cross from the corner flag perfectly onto the head of Johana who found the back of the net in front of the oncoming Drobisz - 1:0.
And it could have been even better. Two minutes later Chramosta worked himself into a nice shooting position, but somehow managed to crash his shot against the right upright from only ten meters out after beating Drobisz.
The players did not slow down in the second half and the match was definitely worth watching. Šírl's centered pass in the 50th minute saw Rolko knocked down in the Olomouc penalty box as he stretched for the ball, but the referee Zelinka saw nothing wrong, against which the crowd loudly protested. On the other side Šultés successfully played past Kysela crossing into the goal box, but the ever-careful Miller did not allow any complications at his near post.
Exciting moments in front of Drobisz quickly followed. First in the 53rd minute, after Fabián's corner kick, Chramosta shot at the Olomouc goalie from a few meters, the rebound falling to Kúdela, who only managed to hit the goalie again. One minute later and Fabián attacked down the left side before passing to Kulič, who selflessly pushed the ball into the path of the uncovered Mendy, and he sent a low drive past Drobisz - 2:0.
Lineup of FK Mladá Boleslav: Miller - Kysela, Rolko, Johana, Šírl - Mendy, Kúdela, Opiela, Fabián (86. Dimoutsos) - Kulič (90. Řezníček), Chramosta (75. Táborský).
Lineup of SK Sigma Olomouc: Drobisz - Koutný (78. Tomeček), Škerle, Kučera, Vepřek - Bajer, Rossi, Ordoš, Navrátil (69. Přikryl) - Doležal (59. Hořava), Šultes.
Goals: 42. Johana, 54. Mendy
YC: Šírl, Kulič, Opiela - Hořava