Táborský's display not enough to win three points
FK Mladá Boleslav – SK Dynamo České Budějovice 1:1 (1:0)
10. 08. 2010 |
The match was played unusually on a Friday, the day reserved for live broadcast by TV Nova. Mladá Boleslav started with enthusiasm. They were more accurate in their concerted effort, and they deserved to win the first half. However, in the second half they conceded a goal, and they have not managed to win against České Budějovice in three consecutive matches.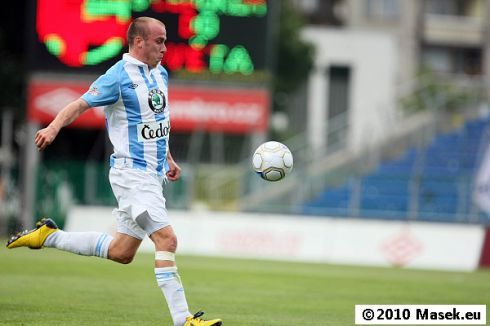 Mladá Boleslav was pushing its rivals towards their goal. A superior play was made when a goal was scored in the 19th minute; Hudson made a mistake when České Budějovice was positioned in front of their goal and Táborský seized the ball. He had sufficient time to analyze the situation, and he made the best possible decision. His left-foot shot swept into the right corner of Kučera's goal - 1:0.
Mladá Boleslav's centres tried to find the agile Bulut with their passes, but he did not assert himself. He had his best chance to score in the 35th minute after a pass from Sylvestre, but goalkeeper Kučera deflected his shot, leading to a corner kick.
The second half started awaiting Mladá Boleslav to confirm the three points by the second goal to secure the lead. However, the opposite became true. In the 52nd minute, Pecka made a short pass to Benát into the Mladá Boleslav penalty area, and he found a little gap past Miller; Benát took a shot, which bounced off the right goalpost into the net - 1:1. But even worse things might have happened. In the next minute, Benát and T. Sedláček were in scoring position, and a brave intervention by Miller prevented a disaster.
Only then did Mladá Boleslav wake up. They moved into the rival's half of the pitch and shot towards České Budějovice's goal from all directions. However, Kučera did not let the ball pass through. He caught and deflected shots by Chramosta, Kalina, M. Sedláček, Mendy and Sylvestre. And in the 75th minute after the centre by Opiela with Mendy's header, Chramosta scored, but the referee did not acknowledge the goal due to an offside position. In the next to the last minute, a beautiful play was started by Sylvestre, who passed the ball to left wing M. Sedláček. He got through the defense and made a nice centre towards the České Budějovice goal. Kučera helplessly watched and wondered who would knock the ball into the goal, but Chramosta and Mendy did not succeed.
FK Mladá Boleslav team: Miller - Janíček, Johana, Brunclík - Kalina, Mendy, Sylvestre, Opiela, Táborský (Michal Sedláček 76) - Kulič (Chramosta 55), Bulut (Řezníček 68).
SK Dynamo České Budějovice team: Kučera - Laštovka, Horejš, Žižka, Jarabica - Benát (Riegel 90), Černák, Otepka, Hudson (Ondráček 82) - Sedláček (Mezlík 70), Pecka.
Referees: K. Hrubeš - Pospíšil, T. Kovařík
Goals: Táborský 19 - Benát 52
Yellow cards: Johana
Spectators: 3086