They failed to score and lost the battle for seventh place
FK Mladá Boleslav – SK Slavia Praha 0:1 (0:0)
31. 05. 2010 |
The Boleslav team was unable to manage a direct confrontation for the seventh place in the table. Their eight-place ranking means the second worst position during the last six years of participation in the  Gambrinus League. The match was determined by the referee Jaroslav Černý, due to a penalty kick.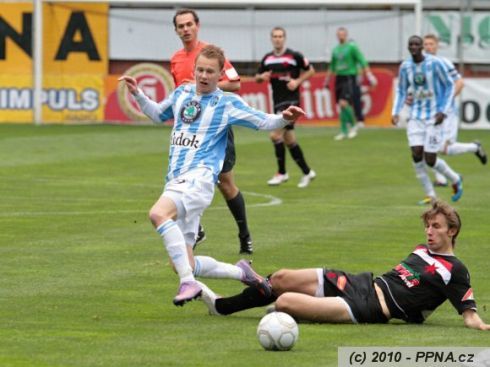 Towards the end of the master season, the Boleslav players were rather exhausted. The defender, Janíček, and the forwarder, Táborský, could not play as they had been punished with four yellow cards. Apart from the long-time injured Pecka, Zahustel and Miller, there were also Kulič and Opiela and the latest, Rolko and Hrdlička. What's more, Sedláček played with three yellow cards and  Procházka with seven, which means that they were at risk of a ban on a master game (or two, respectively) at the beginning of the next master season.
In spite of this incompleteness, Boleslav showed better playing skills than Slavia.
During the first half they developed good shooting chances but were incapable of exploiting them.  Bořil, in particular, was a bad shot . The bombs shot by Chramosta and Kalina were diverted by  Vaniak. A couple of minutes before the break, Chramosta had the biggest chance ever - after Bořil's headshot he hit the post.
In the second half, Boleslav continued their active game. However, no goal was forthcoming. The only goal was shot in the 51st minute from the penalty kick ordered in exchange for Kysela's fall in the Boleslav goal area. It was converted by Jaroslav Černý - 0:1.  Boleslav's chances were recaptured by the excellent Vaniak. He did very well especially at the end of the game, diverting Kúdela and Mendy's shots. The Boleslav goalkeeper,  Šeda, gave the team great support when Kysela, Grajciar and Šenkeřík attacked the goal.
FK Mladá Boleslav team: Šeda - Kalina, Procházka, Kúdela, Fabián - Brunclík, Mendy, Sylvestre, Sedláček (Poláček 76) - Bořil  (Tafat 61), Chramosta.
SK Slavia Praha team: Vaniak - Krajčík, Hošek (Lafrance 67), Trapp, Hubáček - Janda  (Šenkeřík 42), Ragued, Grajciar, Jaroslav Černý - Kysela  (Kaufman 86), Vlček.
Goals: 51. Jaroslav Černý (penalty kick)
Yellow cards: Kúdela, Brunclík - Trapp, Krajčík, Hošek
Referees: L. Kovařík - V. Štěrba, T. Lakomý
Spectators: 2,820