At the Bazaly stadium it was a tie
FC Baník Ostrava – FK Mladá Boleslav 2:2 (1:1)
31. 05. 2010 |
As for the match of the second-place Ostrava against the seventh-place Boleslav, there was no doubt about the anticipated winner. The Ostrava players showed their power from the very first minute. Courageously and assertively, they were attacking the Boleslav goal.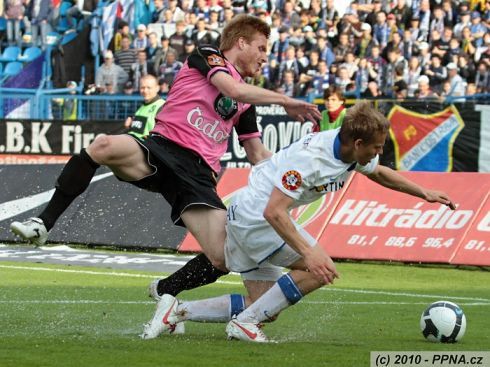 The goal expectations were met in the 6th minute by Mičola - 1:0. The Boleslav players were unable to break free of the continuous pressure for ten minutes.  After a half an hour, the Ostrava players were winning 6:1 in corner kicks. In addition, there were many penalty kicks from the side.
It was in the 21st minute that Baránek was first threatened by Chramosta's acrobatic performance, and Sylvestre then completed the action with his overhead bicycle kick.  Baránek, the Baník goalkeeper, jumped to the left post just in time. In the 37th minute, Šeda successfully diverted a killing penalty kicked by Lukeš. A minute later, the Boleslav team attacked. Sedláček was getting ready to shoot but as he had the ball at his right foot, he decided to pass it to Procházka, who broke into the Ostrava line from the right side. Procházka's centre kick was directed to the Ostrava goal by the falling Chramosta - 1:1.
After the break, the Ostrava team won the lead due to the penalty kick, which was ordered after Vydra's fall during the run and fight against Fabián. The penalty kick was converted by Neves - 2:1. The Ostrava team then dropped their pressure while the Boleslav players improved. The game was being moved more and more to the Ostrava side of the pitch. Two minutes before the end, a relaxed Mendy slipped along the right wing, with a pass that flew over the width to the unattended Táborský, who had enough time to direct the ball precisely - 2:2. The referee added two more minutes but the tie was unchanged.
The Ostrava defenders were missing Bolf, their experienced centre-back, who had been injured in the previous match against Sparta Praha. For the fourth time, the Boleslav attackers had to play without their star, the best league shooter, Marek Kulič, injured from training.
FK Mladá Boleslav team: Šeda - Kalina, Rolko, Janíček, Fabián  (Hrdlička 76) - Brunclík, Procházka  (Táborský 66), Sylvestre, Kúdela, Sedláček  (Mendy 78) - Chramosta.
FC Baník Ostrava team: Baránek - Řezník, Neuwirth  (Greguš 31), Neves, Tchuř - Lukeš, Mareš, Lička  (Wojnar 53) - Vydra, Varadi, Mičola.
Goals: 6. Mičola, 63. Neves - 38. Chramosta, 89. Táborský
Yellow cards: Neves - Kalina, Šeda, Fabián,Rolko, Táborský
Referees: Paták - Lhoták, Moláček
Spectators: 10,090