They lost due to a penalty kick
FK Mladá Boleslav – FK Teplice 0:1 (0:0)
31. 05. 2010 |
The match during which the Boleslav players were in control over the game most of the time and developed more goal chances than the opposite team was lost due to a goal coming from a penalty kick, converted after an hour-long game  by Vachoušek for a foul on  Janíček.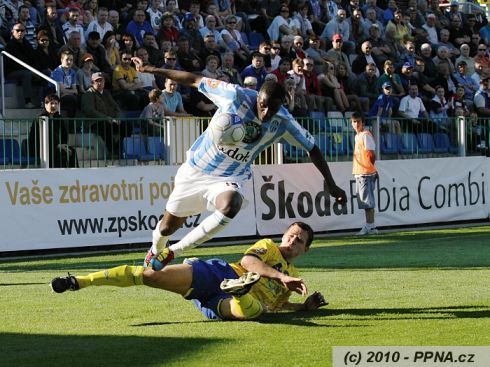 During the first half, the Boleslav team was more active and better than the opposite. However, the Teplice players did not give up; the spectators could see a variety of interesting actions in front of each goal.  There were more in front of the Teplice goal, but without a goal effect.
In the  5th minute, Táborský hit the post. Chramosta did not kick the goal, but headshot it from the goal area. Kúdela's shots were diverted by Slavík,the goalkeeper, at the last second.
Teplice's biggest chance was interrupted in the 26th minute by  Matula, who headed the ball just next to the right post. Then Stožický, shortly before the break, hit his teammate,  Mahmutovič, instead of the Boleslav goal.
At the beginning of the second half, Teplice threatened the opposition. Their chances were developed by Stožický and  Matula but they were unsuccessful. In the 61st minute, Mahmutovič outran the Boleslav centre-back, Janíček. It was he who, at the corner of the goal area, stopped the opposite player's attempt to shoot at the goal by an action that was assessed by the referee, Drábek, as a penalty.  The penalty kick was converted by  Vachoušek - 0:1. There were no other goals, although the Boleslav team made every effort to seize Slavík's goal. None of their attempts was successful.
The Boleslav team had to play without Rolko (disciplinary procedures for yellow cards), Zahustel (surgery on his knee), Miller (broken finger), Kalina (ankle haemorrhage), Kulič (injured stomach muscle) and Poláček (injured knee ligament).
FK Mladá Boleslav team: Šeda - Brunclík, Janíček  (Bořil 65), Procházka, Hrdlička - Mendy, Sylvestre, Kúdela  (Fabián 87), Sedláček - Chramosta, Táborský (Opiela 73).
FK Teplice team: Slavík - Vidlička, Rosa, Lukáš, Siva - Verbíř, Ljevakovič, Matula, Vachoušek  (Veverka 90) - Stožický (Kalivoda 80), Mahmutovič  78 (Došek)
Goal: 61. Vachoušek
Yellow card: Janíček, Procházka - Ljevakovič, Matula
Referees: Drábek - Kordula, Dobrovolný
Spectators: 4,215