Article
FK Mladá Boleslav – FC Tescoma Zlín 0:1(0:1)
They did not Gain any Points with a Bad Shot
07. 11. 2007 |
The Mladá Boleslav players missed a lot of scoring chances, which they handled very sloppily according to the head-coach, Ščasný, in the match against the fiercely defensive team of Zlín, which relied only on breaks and also scored the only goal of the match from one of them. The ball flew around the Zlín goal from both the right-hand and left-hand side and Boleslav gained five times more corner kicks than its opponents, which was significantly supported by goalkeeper Baránek. But he did not have to worry about a lot of Boleslav's shots as they missed their target.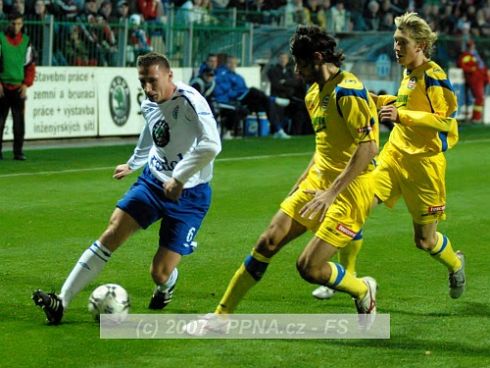 All points lost for the second time at home and, moreover, without any goal scored. Certainly a cogent reason for the sleepless coach thinking about repeated scoring impotence. "It is difficult to assess the match if you lose at home," sighed the head-coach of Boleslav Zdeněk Ščasný when in front of the journalists after the match of the 12th league round between FK Mladá Boleslav and FC Tescoma Zlín, which ended 0:1. The Boleslav players had plenty of scoring chances for a better result. "They missed them sloppily," said Ščasný angrily.
"I am not satisfied with the second home defeat. We created many scoring chances but we did not score and then it is difficult. However, we played relatively well, in particular for the first half of the hour but we neglected the break attacks of the opponents that we allowed the players of Zlín after losing the ball in the midfield. We forced Zlín up to their goal after the break till the end of the match, however, no goal was forthcoming. That's the way things are in football. We lost at home so we must bring some points from any away pitch," stated the head-coach of Boleslav Ščasný.
"It was a very difficult match for us as Boleslav confirmed their strength already during the first half. We intended to play on break attacks and we managed to score from one of them through Žůrek. We expected a rush in the second half and it came with a lot of centre passes from both the right- and left-hand sides. We lost points on our home pitch in the match against   Jablonec even though we played most of the match in our opponents' half but got them back in Boleslav even if we were under permanent pressure," said head-coach of Zlín Pavel Hoftych, not hiding his satisfaction.

Sdílet na facebooku