Article
FC Baník Ostrava - FK Mladá Boleslav 3:3 (2:2)
Shoot-out in Bazaly Ends in a Tie
01. 11. 2007 |
Shoot-out in Bazaly in Ostrava ends without a winner.
The home side, Baník Ostrava, achieved a two-goal lead unexpectedly easily during the first quarter, however, the Boleslav players managed to equalize even before halftime through an excellent shot by Matějovský and a smart sliding shot by Kysela. And so the match began again after they changed sides. The Ostrava players gained the lead again in the second half but substitute Vaněček stole it from them with his first league goal. Boleslav ended the match one man down, when Sedláček was sent off, and without the head-coach, when Ščasný was expelled from the bench on the terrace by the referee.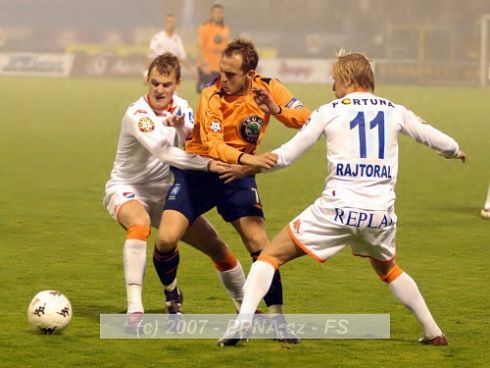 The Boleslav players started the match on the Ostrava pitch with a curious lack of concentration.
They were punished in the 3rd minute by Svěrkoš who was left unattended by the defenders, so that he was able to aim across Miller precisely to the right-hand post – 1:0.
 
Mičola appeared unattended again in front of Miller in the 14th minute and he also utilized his comfortable chance completely – 2:0.
A star moment for the right foot of Matějovský came in the 29th minute. He surprised the Ostrava goalkeeper Vašek with a smashing shot from almost thirty-meters distance that swept into the left-hand corner of his goal – 2:1.
In the 45th minute, Mendy headed the ball to Kysela, who managed to slide it behind the back of goalkeeper Vašek before he could run out of his goal – 2:2

.
The Mladá Boleslav defence made a series of minor mistakes in the 59th minute and the importunate Mičola punished them with a goal – 3:2.
In the 80th minute
, after surrounding the Ostrava goal when goalkeeper Vašek rebounded shots from Kalina and Vaněček, the ball finally got to Vaněček for the second time and he made his first record in the statistics of the Gambrinus League
– 3:3.

Sdílet na facebooku