Article
Matějovský Assisted with a Goal to Qualify for Euro 2008
The Boleslav player Marek Matějovský noticeably helped the national team of the Czech Republic to qualify for the European Championship
22. 10. 2007 |
that will take place in Austria and Switzerland next year. Because of muscle difficulties of the national skipper Rosický, Matějovský started the qualifying match between Germany and the Czech Republic 0:3 in the opening line-up. He assisted for the win with the second goal, thus contributing to the tremendous delight of the Czech football delegation as well as the numerous Czech supporters in the Munich Allianz Arena.
Marek Matějovský played the complete ninety minutes in the midfield in the match that definitely confirmed the participation of the Czech national team in the prestigious Euro 2008 tournament on Wednesday.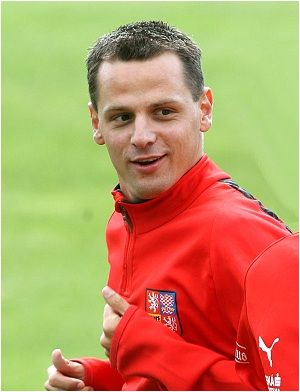 The Czech team enjoyed a fantastic opening to the match when they led from the 2nd minute with Sionko's goal scored after an unselfish pass by Koller.
Marek Matějovský scored the second goal in the 23rd minute. The operation started with a long goal kick by the goalkeeper, Čech. Koller directed the ball with his chest to the running Matějovský in the German half, who passed across Frings and Metzelder with straightforward agility and got in front of goalkeeper Hildebrand, who tried to reduce the area for shooting by running out of the goal, however, the Boleslav playmaker managed to score with his right foot from a sharp angle behind the German goalkeeper. It was the first goal from Matějovský in his fourth national match. And it was quite excellent!
Moreover, Matějovský hit the post of the German goal with a nice shot from more than twenty meters away after the break, in the 57th minute. Plašil confirmed the win of the Czech national team with a third goal in the 64th minute. 

Sdílet na facebooku