Article
US Citta di Palermo – FK Mladá Boleslav 0:1 (0:0), penalty kicks 2:4
A suspenseful performance with a good ending for Boleslav
08. 10. 2007 |
s
uch was the outcome of the two-act theatre play shown within the first round of the UEFA Cup. The first act yielded more happiness for the Palermo squad, with Act Two making Boleslav feel the same emotion. Similarly to Jankovic in Boleslav, it was Sedláček who made the home team, and fans, sad in the last minute of the match in Palermo. The penalty kick sequence, won by Boleslav, again brought a good shot by Sedláček. The Mladá Boleslav team has qualified for the next autumn round of the UEFA Cup, which is played in groups of five teams. The composition of these Groups shall become known during the ballot drawn on Tuesday, October 9.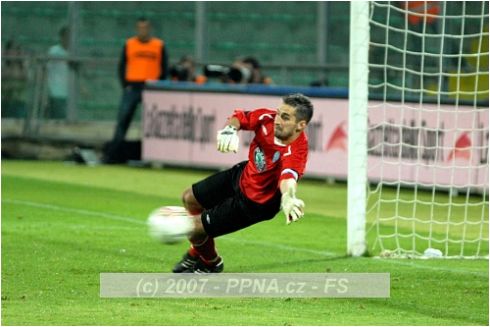 In the last minute of regular playing time, Holub used the opportunity of a corner kick to deploy the ball in front of the Palermo goal. The subsequent tumult gave the Boleslav goalkeeper, Miller, a chance to wade towards the ball so that he could attack the adversary's sanctuary. However, he did not hit the net directly, but propelled the ball across the inner penalty area so that Sedláček was finally able to slam it past Aligardo's back.
Those who had foreseen a verbatim repetition of the Marseille match bedtime story soon saw it was only halfway through. The other half came in the finals of the penalty kick sequence.
Before that happened, both teams first had to go through 30 minutes of overtime. As there were no goals scored in overtime, penalty kicks had to follow.
All players took their kicks right below the Home team supporters' main camp.
The fifth series saw Sedláček
shove the ball towards the right-hand post and that was the decider. The fifth Palermo player did not even get a chance, with the result being
4:2
. Mladá Boleslav celebrated its qualification for the next autumn stage of the UEFA Cup.

Sdílet na facebooku