Article
FK Mladá Boleslav – Bohemians 2:0 (1:0)
Táborský Brought Down The Kangaroos by Two Goals
08. 10. 2007 |
The Indian summer offered ideal conditions for Sunday afternoon football. N
early five thousand spectators saw a thrilling battle with an unflagging pace ending in Boleslav's well-deserved win, whose offence was led
by
accurate shooting Táborský.
Holub, Poláček and Hrdlička did not fit into Boleslav's initial line-up and joined the game only during the second half. Apart from others, Rychlík, Kotyza and Polodna stayed on the Bohemians' bench. Ordoš, who was not even on the bench, also missed the match due to a muscular injury from the training session. The Kangaroos only managed to hit the goal frame in each half.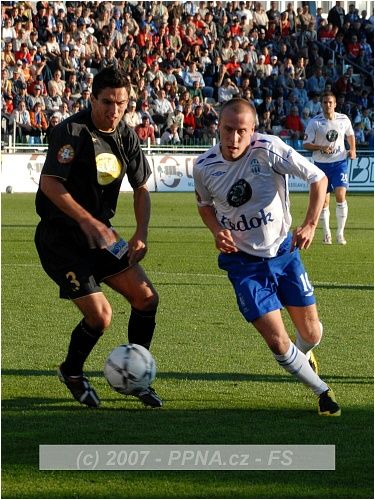 Boleslav's coach Zdeněk Ščasný enjoyed a win before the home audience for the first time. "I thank the players as well as the spectators, who saw a quality match," he proclaimed after the match and spoke from the heart on behalf of all those who filled the stands of the Mladá Boleslav city stadium on the last Sunday of September. The home team scored two goals; the guest team Bohemians hit the post and the crossbar. The match had amazing pace and dramatic charges from the very first to last minute. The coaches of both teams declared that Boleslav's 2:0 win was well-deserved.
"The home team was a more active and better team for the first two-thirds, they were really dangerous. We performed passively, we attacked with difficulty and when we finally managed to do so we had too few players and a bad pass," said Václav Hradecký, the coach of Bohemians, commenting on the game's development.

Sdílet na facebooku