Article
AC Sparta Praha – FK Mladá Boleslav 0:1 (0:0)
Boleslav Took Three Points from Sparta, Holub Hit them
27. 09. 2007 |
The Mladá Boleslav team appeared complete on Monday's last match of the seventh league round while Sparta had to do without three significant individualities. Řepka together with Abraham could not play because of suspension for the incident in the final minutes of the preceding league round in Teplice, and Horváth was eliminated on the day of the match by an acute viral disease. Boleslav players presented themselves as a more compact team with a stronger desire to win, which was expressed by a goal by substitute Holub in the conclusion of the match and could be emphasized by Matějovský, whose shot hit the crossbar of Poštulka's goal.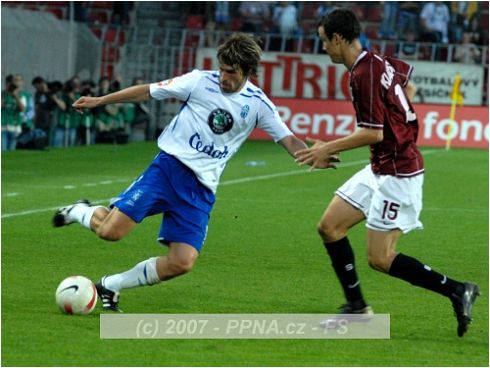 Mladá Boleslav has won five of seven mutual league matches while Sparta has only won two. The Boleslav team achieved the fifth win under the coaching of head-coach Zdeněk Ščasný. "I believed that we were able to win easily," he said at the press conference after the winning match. Ščasný's counterpart from Sparta, Michal Bílek, called the defeat of his team unlucky. He admitted that it had been stated in the dressing room before the match that a win against Boleslav would take Sparta to the top of the league standings. But this did not happen. Sparta remained in fourth position, three points behind Teplice and Slavia, in first and second positions respectively. On the contrary, Boleslav improved to seventh position by the win with a current gain of nine points and a seven-point gap behind the leading pair.
 "I am extremely satisfied," said Ščasný in front of journalists. "We managed to follow up the performance against Palermo and added a win that our team needed badly."
Ščasný emphasized that Boleslav prepared more scoring chances than Sparta and for that reason, he considers the win and three-point gain to be deserved - and this mainly due to the performance during the second half.

Sdílet na facebooku