Article
Plzeň's Defender Procházka Transferred in Boleslav
03. 09. 2007 |
The promising twenty-three years old defender Václav Procházka will strengthen the defensive line of FK Mladá Boleslav. The former Plzeň's player passed necessary medical examination on Monday and he will participate in a training exercise of Mladá Boleslav for the first time on Tuesday, August 28 in the morning. The club offered him a four-year contract.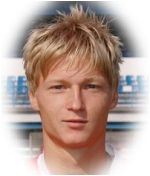 FK Mladá Boleslav obtains a strong defender with both league and international experience of a participant of "U20" World Championship. Václav Procházka, born in May 1984, is a product of the Plzeň football seedbed with reputation of a two-legged player with excellent heading skills. He appeared in the first league match in the shirt of Plzeň in 2003. He has appeared in 91 league matches since, in most of them as a Plzeň player. Only in 8 league matches, he appeared in the shirt of Slovácko where he moved for a half of a year as a guest player. He has scored three times in the first league so far. Most recently he scored in Brno where he arranged sensational win of Plzeň in the third round of this league season by his long-distance shot almost from the half line of the pitch. 
He obtained international experience in particular in junior national teams of the Czech Republic, above all as a member of Czech national teams in "U19" European Championship and "U20" World Championship in 2003. He appeared in the national shirt in 45 matches and scored once. He progressively appeared in "U15" (4 matches), "U16" (6), "U18" (13), "U19" (13 appearances and 1 goal scored in the net of France in 2003 European Championship) and "U20" (5 including two participations in World Championship) national teams.

Sdílet na facebooku