Article
FK Jablonec 97 x FK Mladá Boleslav - 1:1
Head-coach Zajíc: I am satisfied with performance but not with the the result
23. 08. 2007 |
The coaches of Mladá Boleslav and Jablonec declared identically that much would be at stake before the last match of the third round of Gambrinus League: "It will be the match who is the stronger one." When they sat down beside one another in the press centre in Jablonec in the evening after the match, they did not change their opinion too much: "It was the match who was the stronger one." But without decision this time. This was accepted by Luděk Zajíc from Mladá Boleslav much more disappointedly than by his opponent, Jablonec's Luboš Kozel.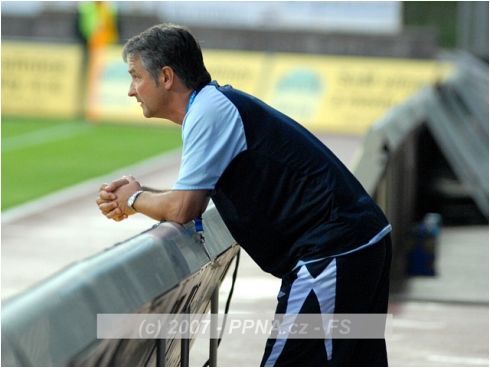 Luděk Zajíc
changed the basic squad and despite of the fact that the changes did not bring win for the team, he considered them to be correct:
"Because our performance had not expected quality, we made changes in our line-up and they proved to be positive. We had good opening of the match but we missed scoring chances and suffered for that by a goal conceded. But the players did not surrendered, worked well and equalized deservedly. We could with the match as we had scoring opportunities but also lose it when we left the rival midfield in final minutes of the match. I am satisfied with performance but not with the result as I wished to win,"
summarized the head-coach of Mladá Boleslav his observations and impressions from the tie in Jablonec.
When asked by a journalist how the players cope with the pressure after unsuccessful start of the league season, Zajíc answered that the players resist it well and that they showed good performance.
Head-coach of Jablonec Luboš Kozel
branded the match between Jablonec and Mladá Boleslav as a duel of above-average league level in particular in the second half when the play moved from one half to the other one tirelessly.

Sdílet na facebooku