Article
Poor beginning, good end?
13. 08. 2007 |
An old Czech proverb says optimistically that a poor beginning advices a good end. But the players rather believe that they will reach good final position in the league if they start well. Mladá Boleslav started this league season poorly. Is it good or bad sign? It has not happened to the team of Mladá Boleslav that they would not score any goal in the opening match of Gambrinus League. Only this year against Viktoria Žižkov.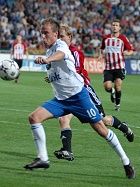 In 2004 summer, at the historical first league premiere, Mladá Boleslav defeated Jablonec tightly 1:0. The club was happy for salvage that the team secured only in the last but one round in the end of 2004/05 season. In 2005, Mladá Boleslav received a lesson from Liberec when the club was defeated cruelly 2:4 on home pitch in the league opening match. However, in the end of 2005/06 league season, the club could joy of the second position just behind Liberec celebrating the championship which was the best achievement in the history of football in Mladá Boleslav. Mladá Boleslav won the first match of the last season against Olomouc tightly 2:1 when the team tried above all not to disappoint in European cups. The team did not disappoint and ended on the third position in 2006/07 league season. This year's start of the league was unsuccessful for Mladá Boleslav as the team lost 0:1 against Viktoria Žižkov unfortunately after equal struggle. Maybe this is pitchy start in a successful league season just like two years ago...

Sdílet na facebooku