Article
Defender Palát Moved Far East
23. 07. 2007 |
Thirty-year old brisk full-back Marián Palát transferred from FK Mladá Boleslav in Russian FK Luč-Energija Vladivostok that is ranked thirteenth in the current sixteen-team Russian top league. The former goalkeeper of Liberec Marek Čech has been in the club since this winter. Marián Palát has agreed upon a three-year long contract with the management of the club from Vladivostok. And so when his hitherto playmates returned by bus from a training camp in Austria, Palát packed his belongings and football baggage and flew away far east.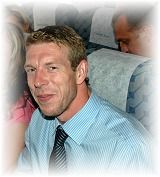 Palát started to play football in Bystřice pod Hostýnem from where he moved through Dukla Hranice, Přerov and Poštorná in first-league Bohemians Prague. Later he left for one-year contract as a guest player in České Budějovice. He returned in Bohemians in summer 2002, however, he moved in second-league Pardubice soon. Mladá Boleslav, a newcomer in the first league at that time, selected him here. He transferred in the club in August 2004.
He obtained his position in the basic squad during three years in the shirt of Mladá Boleslav. He added other 72 matches to eight first-league matches played before for Bohemians. He scored seven times in the first league as a player of Mladá Boleslav. He usually played in the position of an edge defender.
They count with Palát in the position of an edge defender also in his new club. "The bid from Vladivostok quite surprised me and all around my transfer happened very quickly," admitted the uncompromising full-back. "I spent marvellous three years in the shirt of Mladá Boleslav and with Mladá Boleslav fans during which I fulfilled my boyish dream to play the first league and European cups. Now I take this unexpected and very interesting opportunity to play for a foreign club."
A month after his thirtieth birthday celebration he started to refresh his school knowledge of Russian. "I certainly have better background in knowledge of Russian than English," said Palát who joined the team of FK Luč-Energija Vladivostok in Moscow where the team stays in a training camp during this period.


Sdílet na facebooku