Article
Martin Abraham leaves, Petr Voříšek joins
13. 07. 2007 |
By midday Monday, June 11, 2007, the management of the football teams FK Mlada Boleslav and AC Sparta Prague have concluded the negotiations on the transfer of Martin Abraham from Mlada Boleslav to Sparta and a six-month visit of Petr Voříšek to Mlada Boleslav. Both parties have commented the talks as "complex, yet correct".
Voříšek is going to arrive to the Boleslav squad at their training camp in Köflach, Austria, while Abraham is scheduled to join the Sparta, who are now on a camp in Austria as well.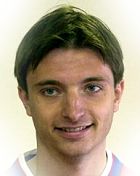 The advent of Petr Voříšek gives Boleslav a player with vast experience in the midfield. Voříšek's reputation is one of a kicker with a balance between his skills as a defender and a forward. He made his first football appearances in Teplice, CZ. As a member of his first team, he appeared in 94 national league matches from October 2000 to the end of 2003. He scored six goals. He was also a member of the "21" team who won the gold medals in the European Championships. In autumn 2003, he appeared briefly in the Czech national team.
However Slavia Prague were interested and getting ready to welcome him, he transferred to Sparta Prague in winter 2004. He wore their red shirt in 19 league matches until the summer of 2005, scoring one goal. July 2005 saw Voříšek visit the team in Paching, Austria; he still remains one of the core team members of Sparta even during his visit in Boleslav.
Coach Zajíc has portrayed a picture where Voříšek takes over Abraham's position in the centre line. Abraham transferred to Sparta Prague after 12 months in Mlada Boleslav.
Martin Abraham (29) joined Mlada Boleslav last year from Slovan Liberec. To there, he transferred from the Slovacko team. In the 2006/2007 season, he appeared in 24 Boleslav matches, scoring two goals.


Sdílet na facebooku