Article
Pecka Awarded Josef Masopust Award
19. 06. 2007 |
The king of league strikers Luboš Pecka obtained the prestigious Josef Masopust Award for offensive activity in the last 2006/07 season of Gambrinus League. The players collect points for this individual competition for goals scored from play (2 points), from penalty kicks (1.5 point) and for final passes (1 point). Luboš Pecka, the player of FK Mladá Boleslav, overcame the opponent goalkeepers fifteen times from play and once from a penalty kick and, moreover, the statisticians registered one his goal pass.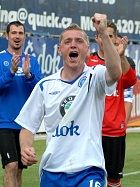 Sport Daily has awarded the most active player of the domestic league since 2002 and Luboš Pecka from FK Mladá Boleslav is only the sixth holder of the award named after the Czech football legend awarded the best European football player in 1962.
Stanislav Vlček from Slavia defended Josef Masopust Award. In spite of the fact that he picked by one point more when compared with the last year, he did not manage to overcome Luboš Pecka from Mladá Boleslav. Marek Kulič who collected points only for passes in the shirt of Mladá Boleslav in the autumn part of the season but found his scoring form in Sparta Prague in spring and jumped in the top ten of the packed standings ended on the seventh position.
Jan Kysela with seven goals and four passes is the second best player of Mladá Boleslav in the second ten. Radim Holub from FK Mladá Boleslav leads the third ten with six goals and three passes.
Final standings of Josef Masopust Award for 2006/07 season: 1. Pecka (FK Mladá Boleslav) 32.5 points, 2. Vlček (Slavia Prague) 30 points, 3. Džeko (Teplice) 28.5 bodů, 4. Střihavka (Baník Ostrava) 27.5 points, 5. Došek (Sparta Prague) 26 points, 6. Zelenka (Brno) 23.5 points, 7. Kulič (Sparta Praha) 22 points, 8.-9. Rajtoral (Baník Ostrava) and Schulmeister (Sigma Olomouc), both 19 points, 10.-13. Kysela (FK Mladá Boleslav), Gašparík (Siad Most), Krbeček (Viktoria Plzeň) and Papoušek (Slovan Liberec), all 18 points. Other positions of the players of Mladá Boleslav: 20.-21. Holub (FK Mladá Boleslav) and Jarolím (Slavia Prague), both 15 points, 38.-40. Poláček (FK Mladá Boleslav), Fenin (Teplice) and Sabou (Teplice), all 11 points, 42.-44. Rajnoch (FK Mladá Boleslav), Otepka (Marila Příbram) and Zápotočný (Slovan Liberec), all 10 points. Abraham from Mladá Boleslav and Brezinský who picked points in the shirt of Boleslav in autumn and in the shirt of Liberec in spring are among eleven players with 7 points.
Hitherto holders of Josef Masopust Award: 2001/02 - Nezmar (Slovan Liberec) 35 points, 2002/03 - Kowalík (FC Synot) 31.5 points, 2003/04 - Heinz (Baník Ostrava) 42 points, 2004/05 - Jun (Sparta Praha) 34.5 points, 2005/06 - Vlček (Slavia Praha) 29 points, 2006/07 Pecka (FK Mladá Boleslav) 32.5 points.

Sdílet na facebooku