Article
Coach Luděk Zajíc Will Enter the 1st Gambrinus League with FK Mladá Boleslav for the Second Time
19. 06. 2007 |
Luděk Zajíc will not be any rookie in the first league. He worked as Uhrin's and Molnár's coach-assistant in Sparta Prague and Slovácko respectively and he also held the position of the head-coach in Hradec Králové in 1995 and together with Bokša in Mladá Boleslav in autumn 2004. He knows both the environment and players in Mladá Boleslav and has not prepared any principal changes. However, as the head of scouting, he has selected some new players as defending of the positions of Mladá Boleslav in Gambrinus League and in the UEFA Cup will be very demanding task.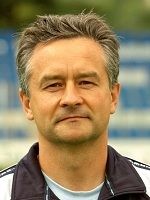 Luděk Zajíc, born in November 1960, started his coaching career in the fourth level Chrudim club where he celebrated promotion twice with the team and got it up to the second league. Later he assisted to Dušan Uhrin senior in Sparta Prague. First-league Hradec Králové, again Chrudim, Bohdaneč and second-league Most were his other posts in this country.
After a contract abroad in Kuwait with the local both A and junior national team, he came for the first time in Mladá Boleslav in 2004. He together with Milan Bokša took over the second-league team with promotion ambitions that they managed to fulfil. However, after promotion joy and historical premiere of FK Mladá Boleslav in Gambrinus League, they did not complete the autumn part of the season. They were substituted by Uhrin and Čuhel.
Luděk Zajíc then worked as a coach-assistant of Molnár in first-league Slovácko and returned in the position of the head of club scouting in Mladá Boleslav. He will enter the first league with Mladá Boleslav for the second time after three years this autumn. Is nervousness or pleasure prevailing?
"I consider pleasure to be the principal condition of work that expects me."
However, nothing easy expects you as you take over a team from the top of the domestic league from which everybody expects results similar like during last two years?
"Dušan Uhrin did top-quality work in Boleslav and it is true that it will be difficult to defend the positions achieved. But I take it as a fact that pertains to football."
Have you already thought about some changes in the team?
"There will certainly be some transfers of players but I do not plan any principal change. I am going to build on successful foundation of the team as I hope it to remain together."


Sdílet na facebooku