Article
Juniors Won Tournament in Marseille
13. 04. 2007 |
The junior team of FK Mladá Boleslav coached by the head-coach Pechanec won an international tournament in the south-French port of Marseille when they did not lose any of four matches played. Kučera who scored three times was successful as a scorer. He scored two of his three goals in the net of Hajduk Split in the final. The juniors will bring the winning cup at Tuesday night.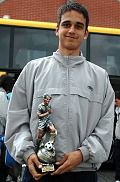 Martin Kučera, a member of the Czech U17 national team, decided the final of the 31st international tournament in Marseille FK Mladá Boleslav - Hajduk Split 2:1 (1:1). He scored a leading goal, however, the Croatian team managed to equalize in the last minute of the first half so that the match started again after the break. Kučera scored again seven minutes before the final whistle and his second goal was the winning one.
The final match took place in Monday afternoon, on April 9, 2007 and the team of Mladá Boleslav qualified in it through three matches in a qualifying group. The juniors of FK Mladá Boleslav tied in the match with the French opponent US Marseille Endoume Catalans 1:1 played in Saturday afternoon at first. Schubert scored the only goal of the team and Kučera missed a big scoring chance in the last minute. The team then defeated the German rival Hertha BSC Berlin 1:0 thanks to a goal scored by Falta in Sunday morning. And they were successful also in the afternoon in the match against the Brazilian team Cruzeiro EC Belo Horizonte which they defeated also 1:0. Kučera scored this time.


Sdílet na facebooku