Article
It Is Honour Not Only For Me But for Complete Mladá Boleslav Club, Means Uhrin About His Award
15. 02. 2007 |
February 8, 2007 - Jan Fidler
The coach Dušan Uhrin considers his third position among his colleagues in the poll of specialists and experts for the last year to be recognition of not only his person but above all of the complete Mladá Boleslav football club. He said it in a short interview on the occasion of announcement of the results of the prestigious annual voting for the Football Player of 2006.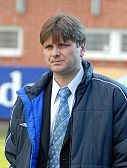 Is your awarding in the poll obliging for you in any way or are you nervous from it or how do you perceive it?
"It is certainly honour for me and I appreciate the third position very much. Of course, this is honour for the complete Mladá Boleslav club, it is recognition of our joint achievements and thanks to them, I was ranked on the third position."
Do you consider Rosický to be the best Czech player?
"Tomáš Rosický is our best football player and I ranked him on the first position."
Who do you consider to be the personality of Czech football?
"I ranked Mr. Škorpil and Marek Kulič on the first and second positions respectively among personalities."
Who is the talent of the year for you?
"I nominated Honza Kysela among the five proposed players but Kolář won the poll deservedly. He was the biggest star in this category."
You can listen Uhrin's answers from video sequence of TV Bolka that forms a part of this club website.


Sdílet na facebooku