Matějovský Spiced His Premiere in the National Team with Goal Assistance
15. 02. 2007 |
February 8, 2007 - Jan Fidler
Marek Matějovský passed his premiere in the Czech national shirt. And it was very successful premiere. He appeared in the friendly match between Belgium and the Czech Republic with the final score 0 : 2 only in the second half. He substituted Brückner's favourite player Galásek in the midfield line in the 68th minute. He made his mark by self-confident performance and, in particular, by assistance at the important second goal. Matějovský took the ball from Koller in the 75th minute and sent a perpendicular pass without hesitation to Kulič who topped the goal attack with his left foot.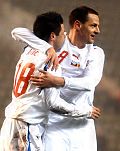 The daily press wrote after the win over Belgium in addition to other: "Brückner praised all his players including debutants Pudil and Matějovský in Brussels in the late evening on Wednesday. The midfielder Pudil attracted attention by perfect passes at which he orientated himself excellently in complicated situations, on the other hand, Matějovský devised a goal pass to his recent team-mate from Mladá Boleslav Kulič."
The readers of iDNES daily assess performances of individual players by giving marks from one to five like in school after each match of the national team. It means one for the best and five for the worst performance. And what was the certificate for the preparatory match between Belgium and the Czech Republic 0 : 2 (goals: Koller, Kulič) played in Brussels on Wednesday, February 7 night like?
The goalkeeper Čech was awarded the best mark by football supporters (more than 1,500 persons took part in assessment), the forwards Marek Kulič and Jan Koller followed just after him and Marek Matějovský and Jan Polák were ranked on the 7th-8th position of sixteen assessed players, tightly in front of the best Czech player Tomáš Rosický. Praiseworthy achievement at premiere!
Complete ranking according to average marks: 1. Čech 1.07, 2. Kulič 1.33, 3. Koller 1.34, 4. Ujfaluši 1.50, 5. Jankulovski 1.75, 6. Pudil 1.79, 7th to 8th Polák and Matějovský 2.03, 9. Rosický 2,14, 10. Kováč 2,21, 11. Galásek 2,30, 12. till 13. Sionko a Rozehnal 2,39, 14. Jiránek 2.52, 15. Plašil 2.77, 16. Baroš 2.97.
And what does Marek Matějovský himself say to it?
The national head-coach Brückner was satisfied with your performance, fans praise you too. What is your own impression from the first start in the national shirt?
"I have good feeling mainly thanks to the fact that we have won and, of course, also thanks to the fact that it was my first appearance in the national shirt."
And aren't you happy about your goal pass?
"I would not overestimate it, however, it is a pleasant fact, but cannot be overrated."
Did the fact that you know each other with Kulič from the matches in the team of Mladá Boleslav help to that successful cooperation before the second goal?
"I have always said that I like playing together with Kulda."
Most of the players complained about pitch that seemed to be terrible also on TV screens. What was it like in reality and were you not more nervous just because of poor pitch before your premiere appearance in the national team?
"I certainly was a little bit nervous but mainly for the fact that I am appearing in the national shirt for the first time but as soon as I involved in the match, nervousness fallen down and I concentrated only on playing. But the pitch was really terrible and it was very difficult to play football on it."
Marek Matějovský is for almost two continuous weeks away from home these days. He reported to the meeting of the national team on Monday, February 5 and on Tuesday he left together with the national team for Brussels where he took part in a friendly match between Belgium and the Czech Republic on Wednesday night. He landed with the national team in Prague Ruzyně airport on Thursday, several minutes before 3 a.m. He had a short sleep at home, greeted his girlfriend and son and started packing luggage for a ten-day training camp with the team of Mladá Boleslav in Cyprus. He was back in Ruzyně airport again in Thursday evening, February 8 to travel together with his Mladá Boleslav team-mates in Cyprus in Thursday night. During twenty-four hours, he flew across Europe from its west coast to the east edge from where he will return home only on Sunday, February 18.