Article
Boleslav's Stadium Will Host U19 EURO 2008
The U19 European Championship will take place in the Czech Republic from July 14 to 26, 2008.
14. 09. 2007 |
The matches of the tournament will be played on six pitches, in Mladá Boleslav, Liberec, Jablonec nad Nisou, Plzeň, Příbram and in Prague on the Viktoria Žižkov pitch. The general secretary of the ČMFS (Czech-Moravian Football Association) Rudolf Baťa has been appointed chairman of the organizational staff of U19 EURO 2008. This information was published on the official website of the Czech-Moravian Football Association on the basis of the decision of the executive board of ČMFS of Wednesday, September 11, 2007.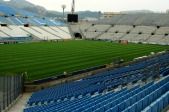 It will be an extraordinary event for the town of Mladá Boleslav. Top tournaments of this age category attract not only visitors but also football experts and journalists from the whole continent and are usually broadcast by Eurosport.
"I regard it as another public valorisation of money invested by the municipality of Mladá Boleslav in stadium facilities and, of course, as confirmation of the prestige and high level of Boleslav's football club within both the Czech Republic and Europe," said the president of FK Mladá Boleslav Josef Dufek.

Sdílet na facebooku