Article
New head-coach Zdeněk Ščasný
will coach FK Mladá Boleslav in a Wednesday's match of the second round of ČMFS Cup.
05. 09. 2007 |
He will substitute on the bench Luděk Zajíc who coached the league team for almost four months. The board of the football club decided about the change on the first September's Monday and the new coach guided a training exercise of the Boleslav team already on Tuesday, September 4, 2007. Thanks to a break for national matches, Ščasný has two weeks for preparation of the team before the sixth league round and only by several days more for preparation for the first duel in the UEFA Cup now. Zdeněk Ščasný who celebrated his fiftieth birthday at the beginning of this August has a rich playing and coaching career behind him. He was without contract currently and football public perceived him as a co-broadcaster of the Czech Television at live broadcasts of the matches of Gambrinus League.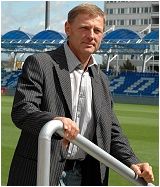 As a player, he played the top Czech league for the Prague clubs Dukla, Sparta and Bohemians. He appeared in four matches for the national team and played for two years for Cyprian club Anegennisis Dherinia.
He started with coaching in 1993 in Roudnice nad Labem, later he was in Blšany and Ústí nad Labem. In 1996, he joined Sparta Prague as an assistant of Josef Chovanec and in January 1998 when Chovanec moved to the national team, he became the head-coach of Sparta Prague. He obtained two championships with Sparta (1998 and 1999), but he terminated his contract in the most famous Czech club in summer 1999. He joined Viktoria Žižkov where he was as a head-coach for three seasons and obtained the third position in the league standings with the team. He experienced foreign contracts in the top competitions in Cyprus and in Greece clubs OFI Crete and Panathinaikos Athens.
First-league Siad Most was the last contract of Ščasný when he took over the team after Přemysl Bičovský here in December 2005. He terminated his contract in Most after one and a half of a year this summer. He was one of the candidates for the emptied position in FK Mladá Boleslav after Dušan Uhrin junior before start of 2007/08 season but the management of the club preferred Zajíc. And just from him, Ščasný took over the team on Tuesday, September 4, 2007.

Sdílet na facebooku