Article
FK Mladá Boleslav - SK Kladno 2:1
Head-coach Zajíc commended Boleslav players for the will to win
29. 08. 2007 |
The had-coach of Mladá Boleslav Luděk Zajíc could enjoy win for the first time. His counterpart Jaroslav Šilhavý from Kladno came among journalists with mixed feelings as he said after the match of the fourth league round. In fact he believed that at least one point had been closer to reach of his team than he had expected initially. Boleslav's Zajíc refused to assess in front of journalists whether the summer newcomers come up to expectations or not. The Central Bohemian derby was very important for Mladá Boleslav.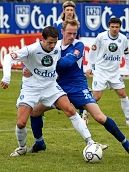 The head-coach Luděk Zajíc
expected from the team to continue in improved performance shown in Jablonec. "We succeeded in it only during opening ten or fifteen minutes. Then we cleared the sides pointlessly and allowed the rival to obtain ball in these areas. Above Szabo utilized it and his swift team-mates Jeslínek, Zachariáš and others benefited from it. On the contrary, we lost our playing rhythm."
It seemed like the players of Mladá Boleslav would lose their self-confidence one after another and nervousness wood stick on their boots from time to time during the first half. "We tried to calm the players down in the dressing room during the break. We managed to score in the opening of the second half but the goal calmed us too much. And, moreover Cigánek got us down by his lucky shot. Matches are about fighting spirit rather than about beauty in such situation." According to Zajíc's opinion, it is very important that the players managed to keep win in such psychically demanding match. 
"The most important is that we have won,"
expressed Marek Matějovský
meaning of the complete team and certainly also of the supporters.

Sdílet na facebooku